Puerto Vallarta is full of wonderful things to do. We recommend taking at least one boat ride to Las Caletas, Las Animas, Majahuitas, Yelapa, or the Marietas Islands. It is amazing to see Puerto Vallarta from the water. There are also other great things to do, such as Swimming with Dolphins, Sierra Madre Treks into the Jungle by Mercedes Benz Unimog vehicles, Horseback Riding, Scuba Diving, Snorkeling, Whale Watching, and of course, the famous Canopy Tour. On this page, we'll try to give you an overview of what's out there.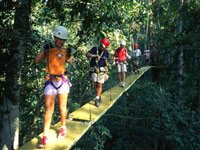 Puerto Vallarta Canopy Tour
NUEVO AND PUERTO VALLARTA TOURS
SCUBA DIVING
If you are a certified scuba diver, you'll find the best dive spots at El Morro, Corbetena, and the Marietas Islands. El Morro and Corbetena are more advanced dives that pay off in a big way with lots of big pelagics, even whale sharks can be seen here. The Marietas Islands are a marine preserve overflowing with life and dives for all skill levels. Beginner dives are available at either Marietas or Las Caletas. If you've never dove before, you can do a 1-hour resort course and dive the next day! Los Arcos makes a good night diving spot. Water temperatures in the summer are bathtub warm, about 85°F, while in the winter they drop to the upper 60s. Visibilities in the summer months can approach 130 feet, while in the winter, they are usually more like 40-60 feet. Click the link above for a complete list.
SNORKELING AND BAY CRUISES
Las Caletas is a wonderful private hideaway with a great beach, a spa, and lots of activities. You can snorkel, kayak, parasail, ride a banana boat, and more. You can take a sailboat out for a day of real sailing, or view the sunset while sipping champagne. For better snorkeling you can visit the Marietas Islands. For a good cruise to a remote beach where you can hike to a waterfall, do any number of water activities, and even horseback ride, you can visit Yelapa. Click the link above for a complete list.
ADVENTURE TOURS
The most popular tour in Puerto Vallarta is the Canopy Tour. You slide on zip lines high above the ground through the tropical forest. You can also ride in a Mercedes Benz Unimog safari vehicle through the Sierra Madre, snorkel and take a jungle walk, or you can go Horseback Riding to a waterfall. An exciting new option is to take a private airplane on a one-day excursion to the towns of San Sebastian, Mascota, or Talpa. Instead of hours on a bus ride, you'll only have a few minutes on a plane, leaving you lots of time to explore. Click the link above for a complete list.
SWIM WITH DOLPHINS
The Swim with Dolphins activity is wonderful. You get to be in the water with the dolphins, touching them, stroking them, getting pulled around by their dorsal fin, and they do acrobatics for you while you're in the water with them. For the best experience, you can live like a Dolphin Trainer for a Day, where you can learn the ins and outs of dolphin training. You can also do just the swim or the encounter where you're on an underwater platform. Videos and Photos are available at the end of the day to purchase. Click the link above for photos and more information.
RHYTHMS OF THE NIGHT
The Rhythms of the Night Tour is one of the most popular tours in Vallarta. It takes you on a boat at sunset to a private beach where you dine at a table for two by torchlight. There are no lights on the beach except torches. After dinner, you can walk on the beach by moonlight or you can see the Interpretive show in the amphitheater. Afterward, you cruise back on the boat with open bar, music and dancing. A very good tour. Click the link above to read more about Rhythms of the Night.
DEEP SEA FISHING
We offer excellent deep sea sportfishing and private boat charters through our partners, Puerto Vallarta Fishing. They'll set you up with a private or shared charter to reel in that marlin you've been dreaming about, or they can just take you snorkeling if you like. Private trips start at $300 per boat and shared trips are less than $100 per person.
These are some of our favorite suggestions of tours to do while you're in Puerto Vallarta. To see a complete list of our tours along with photos and more information about each, just click the link in the yellow box at the top of the page. For even more tour options, you can visit our good friends at Puerto Vallarta Tours.
See A Complete List, Photos, Descriptions and make Reservations