When you arrive at the Puerto Vallarta International Airport, you will pass through customs, and almost immediately, you will be horded by Timeshare hawks. The porters who offer to help you with your bags are usually going to hit you up for timeshare. When you exit the baggage claim area, you'll be swarmed by shouting timeshare salesmen all offering you free taxi rides to your hotel, discounted activities, or other gifts in exchange for attending a timeshare presentation at the resort they represent.
Meet Your Driver!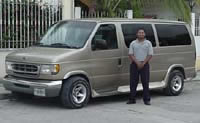 SEE OUR LOW RATES
You will be nervous, overwhelmed, and disoriented, wondering who is a real taxi driver and who is not. You will probably end up wasting a day of your vacation at a timeshare presentation where you will be pressured into buying into their property that you either can't afford or don't want. If you are lucky enough to find your way to the taxi waiting area, past all the sharks, you will likely overpay for a taxi because they know that you'll pay anything to get past the salesmen swarming like bees. If you've been to Mexico before, particularly Cabo San Lucas, Cancun or Puerto Vallarta, you'll know what we're talking about.

THE SAFE ALTERNATIVE - PRE-RESERVED TRANSFERS
If you are here to vacation, and not to attend timeshare presentations, then this is the place for you. If you reserve our Ground Transportation and Airport Transfers before you leave, you will have a driver waiting for you at the airport when you arrive. He will be easily identifiable, and we'll send you all the information about how to contact him or find him before you leave on your trip.

Due to an agreement between the hotels and taxi union, allowing only taxis to pick up at hotels, we are not currently able to offer round-trip transfers. We can offer arrival transfers only. Your hotel will arrange for a taxi to return you to the airport. We hope to be able to offer this service again soon. Thank you for your understanding.
Puerto Vallarta Airport Transfers

Cheapest Prices to your Hotel

Luxury Air-Conditioned Vans

English-Speaking Drivers

One-Way Shared and Private Trips

Up to 6 People per Vehicle Max.

Driver Waiting for You with a Sign

Luggage Assistance

Live Monitoring to Track Flight Delays

Minimal Waiting Time

Service from Bucerias to Mismaloya

Private Service to Punta Mita Area

Available 24 Hours a Day, 7 Days

PVR AIRPORT SHUTTLE RATES (USD)

Prices include all taxes
Rate Zone
Shared
(Per Person)
Private
(Per Vehicle)
Marina Vallarta
$14.00
$59.00
Hotel Zone
$16.50
$69.00
Downtown
$19.50
$79.00
Romantic Zone
$19.50
$79.00
Nuevo Vallarta
$19.50
$79.00
Mismaloya
$19.99
$89.00
Bucerias
$19.99
$89.00
Punta Mita
N/A
$99.00
Boca Tomatlan
N/A
$99.00
Kids 2 and Under are Free if Sitting on Your Lap
We also offer a good selection of tours, activities, and hotels in Puerto Vallarta. If you don't find the tours you're looking for, just visit Puerto Vallarta Tours and they'll help you out.
Vallarta Transfers
Serving Puerto Vallarta since 2004
Gustavo Diaz Ordaz Airport (PVR)
Puerto Vallarta, Mexico
1 (888) 214-8536